GenTegra's products protect nucleic acids while being stored at ambient temperatures. Their patented chemical matrix provides protection against environmental damage that might destroy DNA and RNA. Download the tech notes below for more information.
Identification of P. Falciparum in DNA Recovered from FTA Paper
Successfully genotyping DNA after recovery from FTA paper using the GenSolve™ extraction kit.
Novel Paper Based Technology for Biosample Collection & Biobanking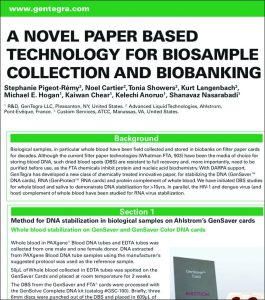 Demonstrates that GenTegra's collection cards are easy to use & suitable for the high-volume collection of biosamples.
Room Temp. Storage of Purified Plasmids in GenTegra-DNA Tubes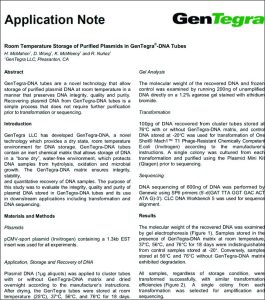 Evaluates the integrity, quality, and purity of plasmid DNA stored in GenTegra-DNA tubes.